Case Preparation Seattle Paralegal Services King County WA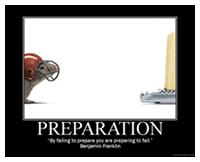 To speak with a family law paralegal call: 425-599-0085
"By failing to prepare, your are preparing to fail ~ Benjamin Franklin
If rats have the common sense to don a helmet prior to a cheese snatch, don't underestimate the other party, you will need to be prepared. Have King Paralegals prepare your family law case for trial, arbitration, mediation, filing an initial action, or an attorney referral, so that you don't get beat by a rat.
Not only will you save money by hiring an expert paralegal to get through the grunt work for the attorney you hire, but it gives an extra set of eyes, a two heads are better than one approach.
It gets better with two different perspectives. Getting less by division and more by multiplication is simply a fact. By having King County Paralegal Services of Washington help to prepare your case, you are recruiting additional help, reducing costs, resulting in a higher quality product with less expended.
King Paralegals can prepare your case's discovery, whether it be interrogatories propounded on the opposing party or answering discovery received from the other party.
A case preparation paralegal can organize, analyze and summarize your and the other parties discovery, index the discovery, and fine tune any documents and pleadings with the information and exhibits and other fruits obtained from the preparation process.
With the fruits of discovery, a case preparation paralegal can help make sure that you are prepared for hearings, mediation, arbitration, and trial.
A real paralegal has one of two things in addition to experience. They have a degree. They have either gotten a two year degree from a great school like Edmonds CC (first approved paralegal program ever), having to take at least 90 credits of college for that degree, 45 of which are law classes. Or they have a bachelors degree and then got a certificate for 30 credits or so of more school time. Most two year degrees take three to get. The certificate is four plus.
In my honest opinion the technician program is an upgrade to being a paralegal, not the short cut it was until December of 2016. If the only thing they have is that, you may want to ask some questions.
If you can not afford an attorney, having King Paralegals prepare your case and documents is an excellent alternative. If you are an attorney, we can assist you too.
Family law case preparation is available for most of Washington state for the surrounding areas of King County in Washington State. Seattle 98199, Seattle 98198, Seattle 98178, Seattle 98168, Seattle 98155, Seattle 98146, Seattle 98144, Seattle 98133, Seattle 98126, Seattle 98125, Seattle 98122, Seattle 98119, Seattle 98118, Seattle 98117, Seattle 98116, Seattle 98115, Seattle 98112, Seattle 98109, Seattle 98108, Seattle 98107, Seattle 98106 in Washington State.