Process Server Blue Ridge Seattle Paralegal Services WA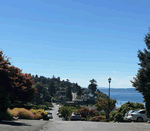 Family law paralegal 425-599-0085
Paralegal Service Near Blue Ridge Seattle
Blue Ridge, Seattle paralegal services for divorce, custody and child support.
Process Server for Blue Ridge, Seattle
Legal documents served for $80 in Seattle Blue Ridge area.
Blue Ridge In Seattle, Washington
To the south of the Seattle neighborhood Blue Ridge is Crown Hill; to the east is Greenwood; on the north by Broadview. Carkreek Park sits between Broadview and Blue Ridge.