Child Custody Paralegal Redmond WA Divorce Services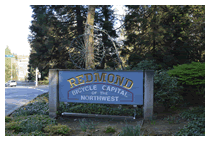 Child custody paralegal Redmond WA: 425-599-0085
Kirkland child custody paralegal document preparation.
Redmond is the bicycle capital of the world, located just east of Kirkland and home to Microsoft. Redmond is another one of King Paralegals favorite service locations with it sitting on two sides of Lake Sammamish.
Redmond is 27 minutes away from Shoreline, Washington. Redmond, Washington is one of seven of the cities that King Paralegals provides family law document services to in the area around Lake Washington. Redmond is the furthest away from Shoreline out of seven service cities due to its location east of I-405.
Most of our clients never come into the office because of the luxury that technology provides, putting us just a phone call, scanned document and an email away. Redmond clients seem to be as technology connected as they come, no surprise with Microsoft being their neighbor.
There is plenty to do in Redmond with Marymoor Park, Sammamish River Trail, and the Microsoft Visitor Center. Unfortunately, sometimes divorce documents are one of those things to do for a child custody paralegal.
Call King Paralegals today for any of your family law paralegal document preparation needs. Our King County WA paralegal service provides document preparation for all types of family law, including child support and parenting plan modifications. King Paralegals has a 10% discount to all Microsoft employees on our fixed document fees.